'Compaq - easy to use links'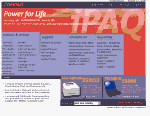 Use


Ease of use is critical for a business web site to be successful. The simple fact that most surfsers will lose interest in a site and move on to another site if they cannot easily find the information they are looking for.

The key to ease of use is the careful planning of information on the site and an intelligently designed and attractive interface. As a site owner you must be focused in what you want to say to your audience. Be direct - tell them what they want to know and they will come back for more.

The interface is also important. It's no good having great information if the interface is unusable, or scares off the surfser. Use a graphic designer who understands the structure of your information and can wrap a simple, intuitive and stylish interface around the site, which guides the user through the content.

Avoid busy, messy, text-heavy, jumbled home pages. Use simple intro pages leading to well structure home pages, or promotional pages. Clear and stylish animation add interactivity.